19th Century Visual Artists
The still images in Finding David Douglas enhance the visual power of the Douglas story. The artists were active in England, Scotland and/or North America during the 19th century before white settlement altered the landscape. Since David Douglas worked in a time before photography—the still images utilized for Finding David Douglas rely on drawings and watercolors created in the field, some studio paintings in oil, and published prints. Two very early uses of photography (North American Boundary Commission and Carleton Watkins's 1867 photographs of the Columbia River Gorge) occurred in the territory Douglas had traveled and help take us back in time.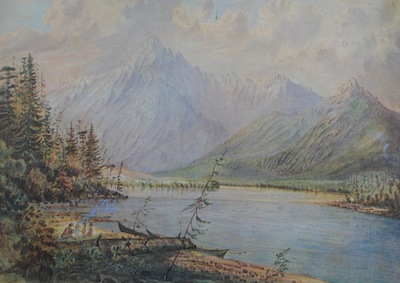 James Madison Alden (1834-1922) spent his early years in Boston, Massachusetts. He joined the U. S. Navy in 1853 and was assigned as an artist for the U.S. Coast Survey charting the west coast. In 1858, Alden became the official artist of the Northwestern Boundary Survey making several trips to the Pacific Northwest. This government survey was charged with gathering information to help determine the boundary between the United States and British America which was then in dispute. Alden's delicate watercolors, created in the field, provide a vibrant reminder of the region David Douglas had traversed just a few years earlier.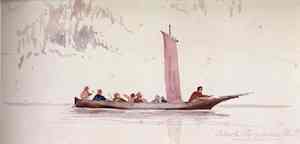 Edward Belcher (1799-1877) grew up in Nova Scotia. He joined the Royal Navy in 1812 and sailed with Frederick William Beechey's expedition to the Pacific Ocean and Arctic 1825-1828. Trained as a surveyor, Belcher was a fine draughtsman who was among the handful of western maritime artists who created a visual record of this part of the world in the generations following Captain Cook's epic voyages. Belcher's views of Ft. Astoria and the Lower Columbia River are particularly relevant to the Douglas story.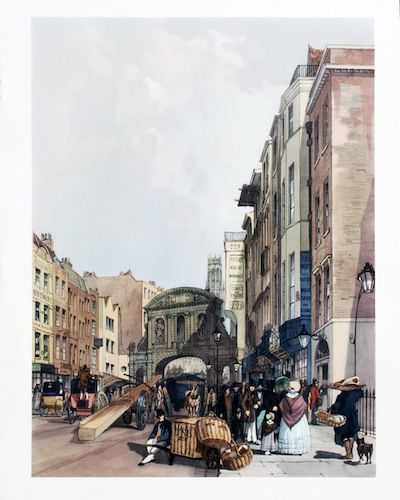 Thomas Shotter Boys (1803-1874) published his Original Views of London as it is in 1842-43. These London scenes help us see David Douglas's English world. Boys's watercolors with his superb architectural delineation, and technique with stone lithography are considered amongst the best of the time. Boys exhibited at the Royal Academy and in Paris.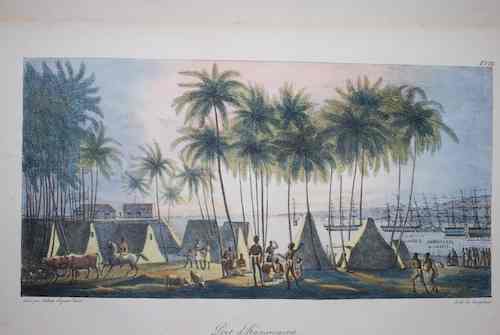 Louis Choris (1795-1828) visited the Pacific, Bering Sea and the Northwest Coast as an artist with the Russian voyage (1815-1818) led by Otto von Kotzebue. After the expedition, Choris went to Paris and in 1822 published a portfolio of his drawings as Voyage Pittoresque Autour du Monde, Avec des Portraits de Sauvages…et Plusiers Objects d'Histoire Naturelle. His view of Honolulu is one of the earliest depictions of the area.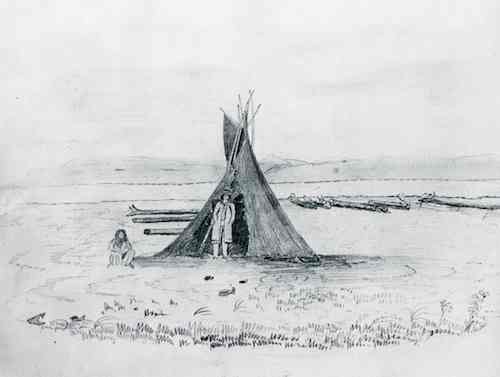 Henry Eld (1814-1850) kept a journal and sketches on his overland journey through Oregon and northern California in 1841. Born in New Haven, Connecticut, Eld joined the U.S. Navy, became a midshipman and served on the United States Exploring Expedition - the U.S.Ex.Ex. (1838-1842). The findings of this huge scientific expedition were published (1844-74) in a twenty-four volume set. The ethnographic, plant and animal specimens collected formed the basis of the then-new Smithsonian Institution in Washington, D.C.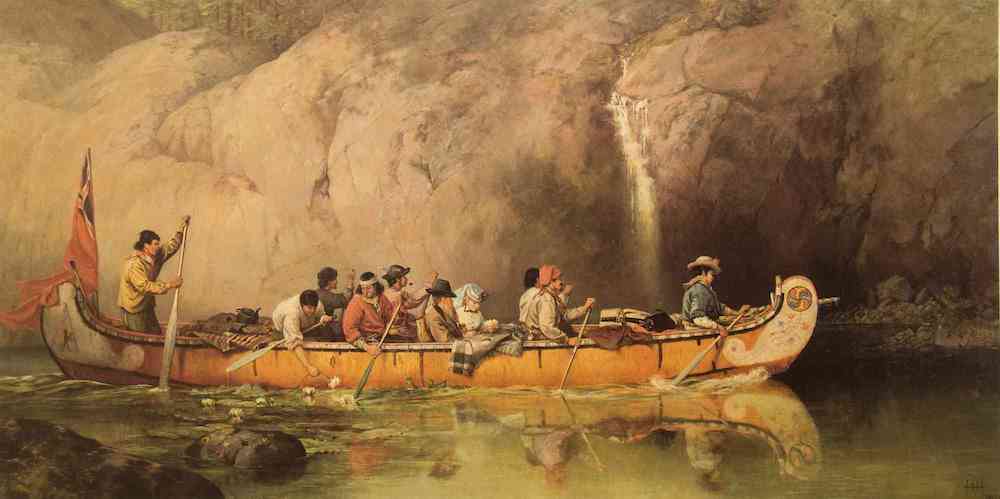 Frances Anne Hopkins (1838-1919) was born into an artistic family, the third of five daughters of Charlotte Stapleton and Frederick William Beechey (the famed naval explorer of the North Pacific see Belcher above). In 1855, Frances married a much older widower, Edward Hopkins, an official of the Hudson's Bay Company. Her marriage took her from England to Montreal, Canada. For twelve years she documented her surroundings in pencil sketchbooks, watercolors and a series of large oil canvasses that remain some of the most iconic images of the voyageur fur-trade era, giving us a vivid pictorial record of the past. Hopkin's exhibited at London's Royal Academy.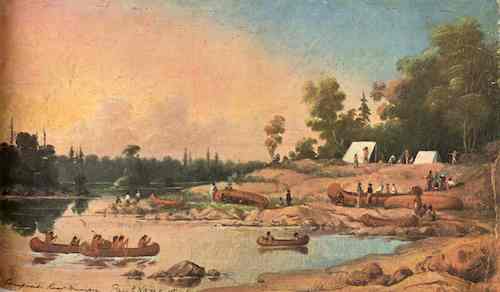 Paul Kane (1810-1871) the renown nineteenth century artist from eastern Canada left an incredible visual legacy of Indian/Fur trade life in North America. Irish-born, his family emigrated to Upper Canada when Kane was a child. Kane received some art training around 1830. He was a life-long adventurer, traveling to the American Midwest, New Orleans, France, Italy, and England. While in London, Kane met the American painter George Catlin who had painted Indian tribes on the western prairies. Perhaps inspired by this encounter, Paul Kane accomplished the overland trip across North America to the Pacific Northwest. The Hudson's Bay Company supported the 1846-1848 journey. The artist created more than 700 field sketches in pencil, watercolor or oil on paper. He later translated his recordings in the field into idealized impressions in his Toronto studio, painting more than100 oil canvases. Kane successfully exhibited his work and published an account of his travels in 1859.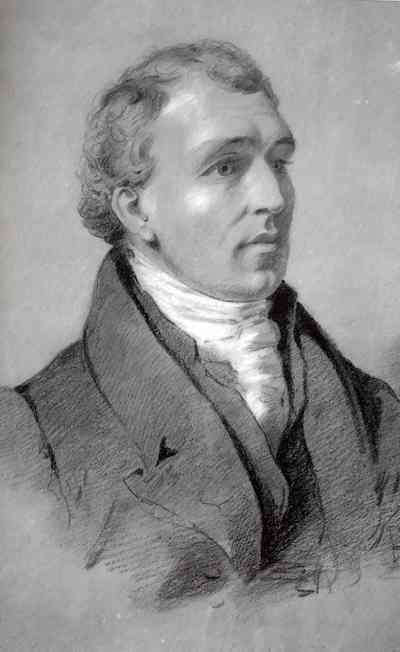 Sir Daniel Macnee (1806-1882) lived most of his life in Edinburgh, London, and Glasgow. He enjoyed a successful career as a popular and fashionable portrait painter. Fortunately for our story, he sketched David Douglas early in his career in 1828. This drawing in chalk was later transformed into a lithograph and then published in Curtis's Botanical Magazine in June 1836. Macnee served as president of the Royal Scottish Academy in 1875/76. Many of Macnee's portraits are in the collections of the National Gallery of Scotland Edinburgh and the National Portrait Gallery London.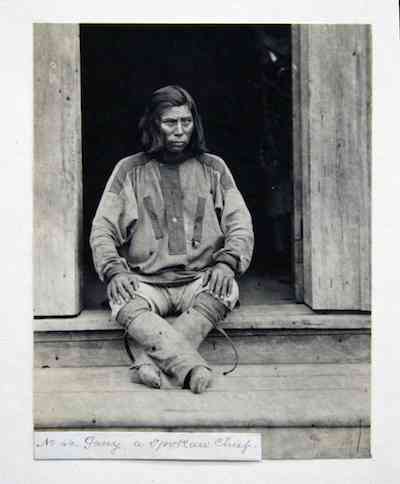 North American Boundary Commission (1858-1861) The photographs made in 1860, 1861 by the Royal Engineers are likely the first ever taken in the remote regions the engineers explored. Members of the survey team studied the new medium of photography in London at south Kensington Museum (now the Victoria & Albert Museum) prior to departure for North America. Among the 81 compelling images in the collection was an Indian chief, Spokan Garry, who David Douglas had met and written about in his journal. The North American Boundary Commission was a joint effort by two teams of engineers from the United States and Britain to survey and map the boundary at the 49th parallel west from the Rocky Mountains to the Pacific Ocean. The jointly occupied Oregon Country boundary question had finally been settled diplomatically by the Oregon Treaty of 1846.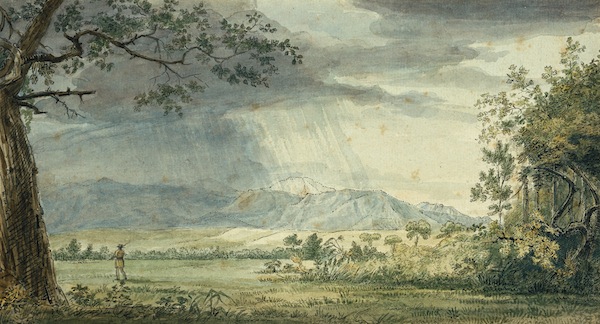 Samuel Seymour (active period in the United States c. 1796-1882) Seymour may have been English. He was a Philadelphia engraver and artist with his earliest landscape paintings appearing in 1796. He exhibited through the Pennsylvania Academy of Arts. In 1819, Seymour traveled as a painter for nearly two years with the Major Stephen H. Long survey expedition to the American west.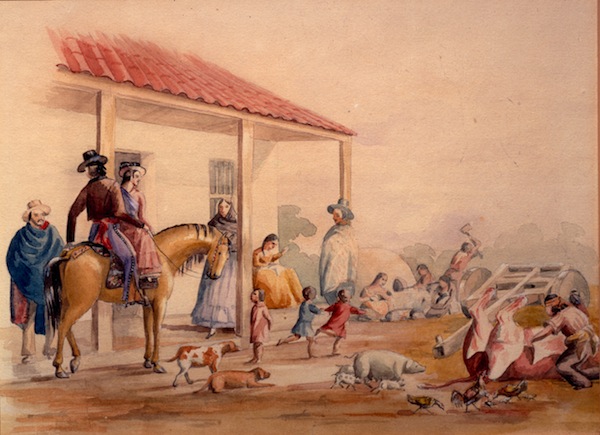 Alfred Sully (1821-1879) graduated from West Point in 1841 and remained in the U.S. Army his entire career in Florida, Mexico, Monterey, Ft. Vancouver, Minnesota and Nebraska Territories. He was the son of the noted painter Thomas Sully and was a competent observer of events and places. He created an artistic and literary legacy with his correspondence, sketches, watercolors and oil paintings.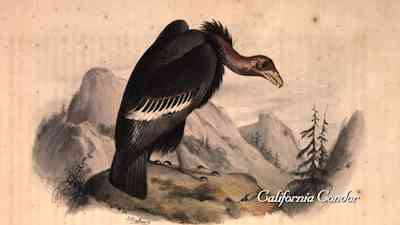 John Kirk Townsend (1809-1851) was raised a Quaker in Philadelphia. He trained as a pharmacist and doctor and developed a keen interest in natural history and bird collecting. In 1833, botanist Thomas Nuttal invited Townsend to join Nathaniel Wyeth's expedition across the Rocky Mountains to the Pacific Ocean. Townsend collected a number of animals new to science. He returned via Hawaii and Cape Horn. Upon his return, Townsend sold several bird specimens to Audubon who neglected to give Townsend proper credit in his Birds of America. Townsend published a narrative of his journey in1839. His illustration of the California Condor appears in Finding David Douglas.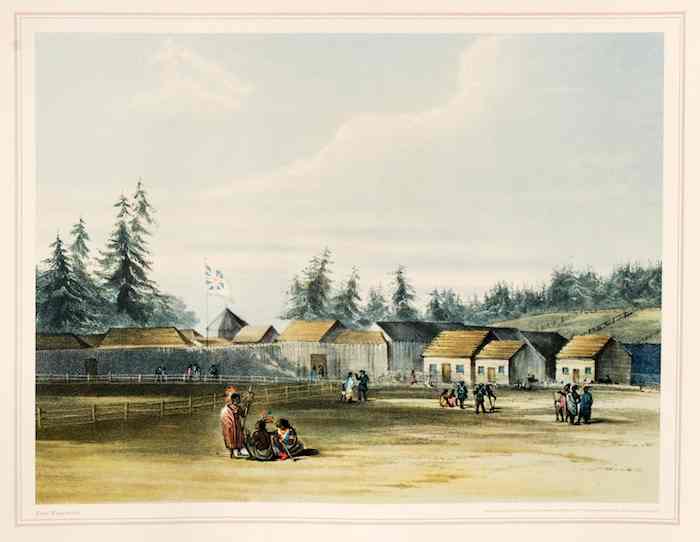 Henry J. Warre (1819-1898) spent his career in the English military. During 1845-46 Warre along with Lieutenant Mervin Vavasour of the Royal Engineers, made a secret mission to the Oregon Territory pretending to be private travelers. Their real mission was to determine the strategic value of the region from the British military standpoint. At that time, the region was jointly held by both the United States and England. After Warre returned to London, an account of his travels was published that included twenty color lithograph sketches of his journey. Warre's drawing of Fort Vancouver is widely reproduced and provides an early view of the area where David Douglas had lived just a few years earlier.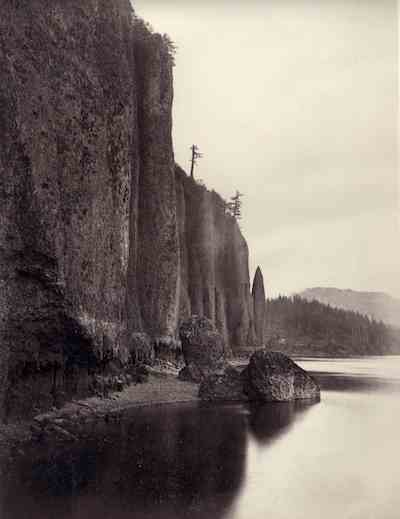 Carleton Watkins (1829-1916) arrived in Portland, Oregon in 1867 for the purpose of taking "views wherever he may find the scenery remarkable" (July 12, 1867 Portland Oregonian). His large format camera (18x22 inch plate glass negatives) recorded some of the earliest landscape views of the Columbia River Gorge. Watkins was born in Oneonta, New York and came to California during the Gold Rush era, arriving in 1851. He is most known for his large photographic prints and stereoviews of Yosemite Valley. Watkins's photographs helped influence the U.S. Congress to establish the Valley as a National Park in 1864. All this happened in the early era of photography before technology easily allowed enlargements to be made from smaller negatives. Watkins was in the process of negotiating the sale of his life's work in the spring of 1906 when tragically the earthquake and resulting fire destroyed his San Francisco home. His eyesight had begun to fail, and he died blind in the California State Hospital in Napa at age eighty-seven.